A Few Race Highlights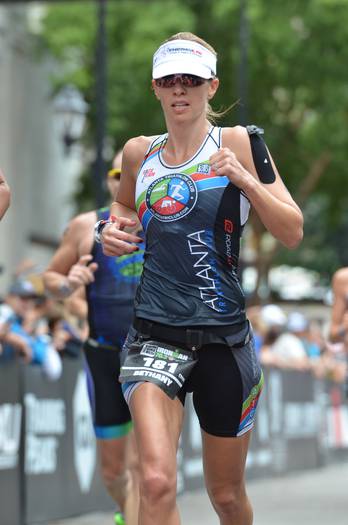 Bethany enjoys participating in many events from mile to IRONMAN sometimes for training and sometimes for racing. She's won local races from 5k – half iron distance outright and has finished on the podium in many IRONMAN and 70.3 events, often in the top 10 amateurs.
She has qualified for the Hawaii IRONMAN World Championships twice and the 70.3 World Champs yearly for the past five years. Her favorite races are the Atlanta Dog Jog/ Reindeer Romp, where Sadie has won several years running, IRONMAN Florida 70.3, the John Tanner Sprint, and IRONMAN Louisville.
 2017 Race Highlights
Westside 10k – 1st OA
Morningside Mile PR- 5:38
Chattahoochee 5k PR – 18:53
2017 IRONMAN 70.3 World Champs Qualification (AGR Points)
2016 Race Highlights
IRONMAN 70.3 North Carolina- 5th AG
Feet to Feast 5k – 2nd OA
IRONMAN Augusta 70.3 – 5th AG
Callaway Gardens Triathlon – 2nd OA
Charleston Marathon 5k – 1st OA
2015 Race Highlights
IRONMAN Florida- 5th AG
IRONMAN Augusta 70.3- 2nd AG/ 6th OA IRONMAN World Champs Qual
John Tanner 2 Sprint- 1st OA
Tri 2 Beat Cancer – 2nd OA
Tri the Mountains- 1st "Elite"
IRONMAN Chatt 70.3- (mechanical) 5th AG
John Tanner Sprint- 3rd OA
IRONMAN Florida 70.3- 5th AG/10th OA (IRONMAN World Champs Qualification)
Morningside Mile- 2nd OA
Chattahoochee Road Runners 5k- 2nd OA
2014 Race Highlights
IRONMAN 70.3 World Championships (Mont Tremblant)- Finisher
Challenge Roth- Finisher
Peachtree Road Race- 4th AG
IRONMAN Raleigh 70.3- 5th AG
IRONMAN Florida 70.3- Swim/Bike  due to injury. 5th AG off the bike
Publix Half Marathon- 1:28:16 (PR) 9th OA/2nd AG
CRCC 5k- 18:54 (PR)- 3rd OA
Charles Harris 10k- 39:24 (PR)- 1st AG
2013 Race Highlights
IRONMAN FL- 9th AG
Sprint the Gaps- 1st OA
IRONMAN Augusta 70.3- 2nd AG, 5th Amateur, (70.3 World Champs Qualification)
IRONMAN Louisville- 3rd AG, (Kona Qualification)
Tri to Beat Cancer- 1st OA
Macon Rock and Rollman Half- 3rd OA
IRONMAN Texas– 3rd AG
John Tanner Sprint- 2nd OA
Chattahoochee Challenge Half Iron Distance- 1st OA
 2012 Race Highlights
IRONMAN World Championship Finisher
Lake Lanier Triathlon- 2nd OA
Macon Rock and Rollman Half- 4th OA (first $ win in a race!)
IRONMAN St. George- 9th AG
2011 Race Highlights
IRONMAN Florida- 3rd AG (Kona Qualification)
IRONMAN Louisville- 9th AG
Peachtree Sprint- 1st OA
Peachtree SuperSprint- 1st OA
John Tanner Sprint Triathlon- 3rd OA
(Visited 14 times, 1 visits today)